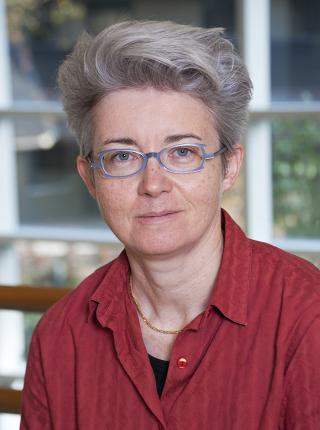 Research Assistant Professor
Manager, Genomics Facility - Genotyping and Real-Time PCR
Research Program
Educational Background
Post-doctoral studies on intracellular trafficking and DNA repair mechanisms in Plasmodium falciparum infected erythrocytes at Thomas Jefferson University, 1993-1995
PhD, Biophysics, Paris VI University France, 1992
People
Rita Michielli

Technical Specialist

P3013
Research Interests
Research Interest: Experimental and analytic support for genomic analysis
Lab Overview
Experimental and analytic support for genomic analysis
As one of the managers of the Genomics Facility, I lead the Genotyping and Real-Time PCR core, which facilitates scientific studies by designing, coordinating, and performing targeted genomics-related services (such as mouse genotyping, gene expression and gene copy number by real-Time PCR and targeted mutation analyses). I have also extended my expertise in genomics to variant analysist and support research projects involving sequencing data analyses.
Real-time PCR assay validation. Each reverse transcriptase real-time PCR experiment includes a 5- point 4- fold dilution standard curve with a calibrator sample to ensure the linearity of the reverse transcription step and to measure the PCR efficiency.
Lab Description
I implemented the Real-Time PCR core in 2003. Through this full-service operation, I have developed a wide range of assays and analytical skills that have contributed to many projects. All primers and probes established or brought since 2003 are housed in the facility and available to all users at low cost.
I supervise the full-service mouse genotyping core, which supports investigators in the maintenance of their mouse colonies.
I regularly work with investigators to develop assays specific to project needs. With my background in DNA repair studies, I have been able to work on out of the box applications such as optimizing a beacon assay to detect DNA glycosylase. The assay is used as a read-out for high throughput screen for novel TDG inhibitors.
With the rise of large sequencing data, I have worked on assessment of pathogenicity of variants using a variety of bioinformatics tools and collaborate on studies looking at variants associated with cancers.
With my expertise in DNA repair and analysis of genomic variants, I have supported the work of FCCC researchers by performing extensive investigation of the scientific literature on topics of their interest. Some of this work was published in reviews. 
Selected Publications
Gabitova-Cornell L, Surumbayeva A, Peri S, Franco-Barraza J, Restifo D, Weitz N, Ogier C, Goldman AR, Hartman TR, Francescone R, Tan Y, Nicolas E, Shah N, Handorf EA, Cai KQ, O'Reilly AM, Sloma I, Chiaverelli R, Moffitt RA, Khazak V, Fang CY, Golemis EA, Cukierman E, Astsaturov I. Cholesterol Pathway Inhibition Induces TGF-β Signaling to Promote Basal Differentiation in Pancreatic Cancer. Cancer Cell. 2020 Oct 12;38(4):567-583.e11. doi: 10.1016/j.ccell.2020.08.015. Epub 2020 Sep 24. PMID: 32976774; PMCID: PMC7572882.
Tricarico R, Nicolas E, Hall MJ, Golemis EA. X- and Y-Linked Chromatin- Modifying Genes as Regulators of Sex-Specific Cancer Incidence and Prognosis. Clin Cancer Res. 2020 Nov 1;26(21):5567-5578. doi: 10.1158/1078-0432.CCR-20-1741. Epub 2020 Jul 30. PMID: 32732223; PMCID: PMC7642178.
Wang Y, Bernhardy AJ, Nacson J, Krais JJ, Tan YF, Nicolas E, Radke MR, Handorf E, Llop-Guevara A, Balmaña J, Swisher EM, Serra V, Peri S, Johnson N. BRCA1 intronic Alu elements drive gene rearrangements and PARP inhibitor resistance. Nat Commun. 2019 Dec 11;10(1):5661. doi: 10.1038/s41467-019-13530-6. PMID: 31827092; PMCID: PMC6906494.
Sannai M, Doneddu V, Giri V, Seeholzer S, Nicolas E, Yip SC, Bassi MR, Mancuso P, Cortellino S, Cigliano A, Lurie R, Ding H, Chernoff J, Sobol RW, Yen TJ, Bagella L, Bellacosa A. Modification of the base excision repair enzyme MBD4 by the small ubiquitin-like molecule SUMO1. DNA Repair (Amst). 2019 Oct;82:102687. doi: 10.1016/j.dnarep.2019.102687. Epub 2019 Aug 8. PMID: 31476572; PMCID: PMC6785017.
Nicolas E, Demidova EV, Iqbal W, Serebriiskii IG, Vlasenkova R, Ghatalia P, Zhou Y, Rainey K, Forman AF, Dunbrack RL Jr, Golemis EA, Hall MJ, Daly MB, Arora S. Interaction of germline variants in a family with a history of early-onset clear cell renal cell carcinoma. Mol Genet Genomic Med. 2019 Mar;7(3):e556. doi: 10.1002/mgg3.556. Epub 2019 Jan 24. PMID: 30680959; PMCID: PMC6418363.
Additional Publications
The following ratings and reviews are based on verified feedback collected from independently administered patient experience surveys. The ratings and comments submitted by patients reflect their own views and opinions. Patient identities are withheld to ensure confidentiality and privacy. Learn more about our Patient Experience Ratings.
Ratings Breakdown
Loading ...
Patient comments
Loading ...