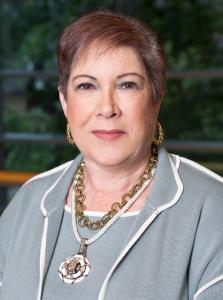 Emily Bakaj, Advisor
My journey began with Fox Chase when I wanted a second opinion for my breast cancer diagnosis and then transferred my health care. No one explained to me what was happening within my body as clearly as Fox Chase. My surgeons drew pictures and spoke to me in language I could understand. And from there, through my surgery, chemotherapy, radiation, additional surgeries, and lymphedema, I knew I had found a home that was nurturing and supportive while giving me the best medical care I could hope for. I am seven years out from my diagnosis and when I walk into Fox Chase, I feel enveloped with a sense of peace and well-being. I know that sounds odd, but I believe that speaks volumes about this facility and those who work here.
My mother passed away from breast cancer when I was in my early twenties and helping her through her journey, and then living my own, definitely changed me as a person—kinder, stronger, more giving and open. Support groups, peer support, and PFAC give me a chance to make a difference.
In my day to day, I am the facility and property manager for an engineering consulting firm. I have been married for 23 years to a wonderful man, Myron, and without his support and love, and the support of friends, family, and Fox Chase Cancer Center, I would not be where I am today.