Fox Chase Cancer Center is accredited by the
American College of Surgeons Commission on Cancer

The Commission on Cancer (CoC) is a consortium of professional organizations dedicated to improving survival and quality of life for cancer patients through standard-setting, prevention, research, education, and the monitoring of comprehensive quality care.
Five elements are key to the success of a CoC-accredited cancer program:
The clinical services provide state-of-the-art pretreatment evaluation, staging, treatment, and clinical follow-up for cancer patients seen at the facility for primary, secondary, tertiary, or end-of-life care.
The cancer committee leads the program through setting goals, monitoring activity, evaluating patient outcomes, and improving care.
The cancer conferences provide a forum for patient consultation and contribute to physician education.
The quality improvement program is the mechanism for evaluating and improving patient outcomes.
The cancer registry and database is the basis for monitoring the quality of care.
See more at the American College of Surgeons' website,  facs.org
NAPBC Accreditation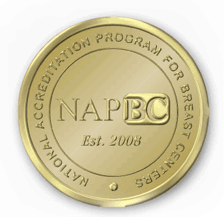 Fox Chase Cancer Center is accredited by the National Accreditation Program for Breast Centers (NAPBC) of the American College of Surgeons.  
The NAPBC was developed by national, professional organizations dedicated to the improvement of the quality of care and monitoring of outcomes of patients with diseases of the breast. This mission is pursued through standard-setting, scientific validation, and patient and professional education.
NAPBC-accredited breast centers have met the criteria set forth and incorporated into this program by each discipline treating patients with diseases of the breast. Each center applying for NAPBC accreditation understands the benefits of a multidisciplinary approach to diagnosing and treating breast disease and has undergone a rigorous application process and on-site survey to assure the NAPBC standards are being met.