"I thought Dr. Greenberg was outstanding."

‐Stephen Harkavy
I am a retired surgeon and understand the importance of having an annual physical that includes a PSA (prostate specific antigen) blood test. I began experiencing frequent urination in 2008 at age 65, which I knew could be a symptom of prostate cancer. Although I was not concerned about my PSA levels, I did note that the levels were climbing rapidly. I met with my local urologist who ordered a biopsy that confirmed the diagnosis of prostate cancer.
There was no question in my mind that I would seek treatment from Dr. Richard Greenberg, chief of urology and urologic oncology at Fox Chase Cancer Center. I knew I would be in the best hands because he specializes in treating patients with prostate cancer. During the consultation with Dr. Greenberg, I was impressed by his compassion, concern, and thoroughness when he explained his recommended treatment plan. No question was left unanswered during that consultation.
The diagnosis came at a challenging time for me, in that my wife, Carol, and I were about to leave for a family vacation with our children and grandchildren. It was something we had looked forward to for a long time, but we asked Dr. Greenberg if we should reschedule the trip. He told us to go ahead and enjoy ourselves and that my treatment would not be affected by waiting a few weeks.
We took the vacation and enjoyed every minute. A cancer diagnosis puts everything in perspective, and I treasured the time I spent with my family on that trip.
When we returned home, I proceeded with the treatment. The night before my surgery, Dr. Greenberg called to answer any questions I might have, and he also spoke with Carol to address any of her concerns about the procedure. The next day, Jan. 8, 2009, he performed a robotic-assisted, minimally-invasive radical prostatectomy, which led to an exceptional result in both urinary and sexual functioning.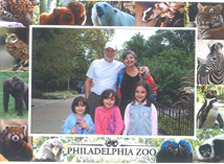 I appreciated Dr. Greenberg's attention to detail in removing all of the margins of the cancer while preserving as many nerves as possible. His concern for me as a patient, taking as much time as he felt was necessary rather than completing the surgery in a hurried manner, all contributed to the fine result. I cannot praise him enough for his professionalism, knowledge, and surgical skills. The entire Fox Chase community was extremely helpful during my stay and with pre- and post-operative care.
I have always been in great shape, so everyone was shocked when I was diagnosed with cancer. When anyone asks me where to go when they have cancer, without reservation I recommend Fox Chase in general and Dr. Richard Greenberg in particular for anyone requiring urologic cancer surgery.