"[Treatment] is worthwhile because once you are on the other side, you have a promise of a future. That is impactful. You need to find a path through it if you can."

‐Rodney Malarchik
Early in 2020 (at the start of the COVID-19 pandemic), I retired. In March, I started to notice that I was frequently feeling uncomfortable in my stomach. I never get sick, so I didn't think much of it. However, when the problem persisted until May, I decided to get it checked out.
My primary care physician thought I may have a small hernia, so they scheduled a few tests for me at my local hospital in Bethlehem, PA. Instead of a hernia, the MRI showed a small undefined mass on the distal part of my pancreas. At the time, the doctors thought it may be cancerous, but they couldn't be sure without a biopsy. Even though it wasn't confirmed, I decided to be proactive and do my own research on hospitals that specialize in cancer.
Finding the Right Team
From the beginning, I wanted to find a team that I could trust. After researching online, I found Fox Chase and decided to set up an appointment there. I was pleasantly surprised when I quickly got a response and was able to schedule an appointment for the next week.
During my first visit, I met with two pancreatic cancer specialists, Dr. Sanjay S. Reddy, a surgical oncologist, and Dr. Michael J. Hall, a medical oncologist. Together, they came up with a comprehensive plan on how they wanted to diagnose and ultimately treat my disease. I felt so comfortable and confident with the care they were providing and the next steps they outlined.
The first step was to have a biopsy performed, so I met with a Fox Chase gastroenterologist, who performed my endoscopic biopsy. I had never had any kind of surgery or spent the night in a hospital before, so I had no idea what to expect. I was reassured beforehand and the procedure went well; however, the results confirmed that I had pancreatic cancer.
Facing a Complex Treatment and Surgery During a Pandemic
Dr. Reddy and Dr. Hall felt that it was best to begin my treatment with chemotherapy, which I received for four months. Following that part of my treatment, blood tests showed that my tumor markers had stabilized or gotten lower, which made it the right time for surgery. To remove the mass on my pancreas, Dr. Reddy performed a subtotal pancreatectomy and splenectomy—a complex surgery where part of the pancreas is removed along with the spleen.
My surgery was scheduled right before Christmas, and although it went well, I had to recover for seven days in the hospital. Due to the ongoing COVID-19 pandemic, my wife of 46 years, Melinda, couldn't be with me for my treatments or after my surgery. However, even though I didn't have my family with me, I didn't feel lonely. My nurses were there with me every day and made the experience better. It felt like a second home there.
It wasn't just the compassion of the nursing staff that made me feel comfortable—it was also their expertise. They encouraged me and gave me exercises to help me heal quicker. There is a process to healing, and they helped me take control of that and help myself with recovery. There are good experiences that come out of everything, and that week in the hospital gave me time to reflect and think about all the things I am grateful for. I have an appreciation for every day. I have met so many people and have made so many friends during my treatment. If I had to be anywhere for cancer treatment, I can't think of a better place to have been than Fox Chase.
Although my wife could not physically be with me during my treatments and after my surgery, she has been a huge support through everything. She's wonderful, and as a patient in remission from non-Hodgkin lymphoma, she understands what I am going through because she has been through it herself. We don't let cancer define who we are.
Ringing the Bell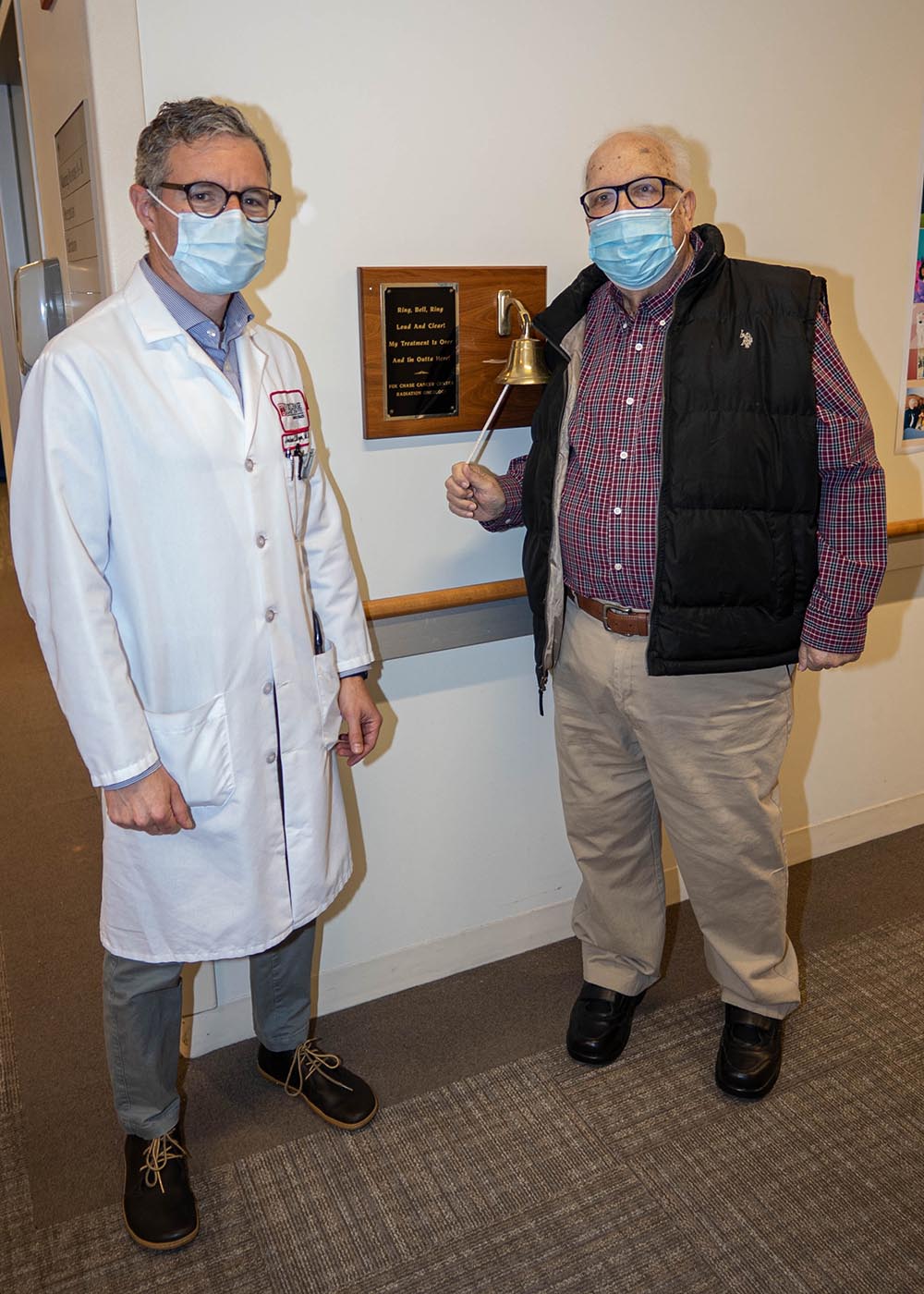 During my surgical procedure, my care team found a few affected lymph nodes. Because of this, Dr. Hall recommended that I complete another two months of chemo followed by five weeks of oral chemotherapy and radiation under the care of Dr. Joshua Meyer. I just finished my last radiation treatment and was recently able to "ring the bell" for the second time (I also rang it at the end of my chemotherapy treatments). Every time that bell rings, it is a message of hope and promise that others can get through it. It was a crowning achievement to be able to ring that bell twice.
In June, I will have a follow-up CT scan to check on my status. I feel confident that I will be a survivor and come out on the other side.
My experience has also helped me realize what I want to do with my future. I plan on working with a cancer support group at a hospital near my home and will work with people who have been diagnosed with cancer to help guide them through their journey. I also want to write a book about my experience with this disease and dispel some myths and fears surrounding it.
Learn more about pancreatic cancer treatment at Fox Chase