"Receiving my care through Fox Chase Cancer Center has been a blessing."

‐Lynn Tucker
When something feels wrong, speak up. For Lynn Tucker, that sentiment is more than empowering, it's life changing.
Five years ago Lynn began to experience stomach pain so severe that at times it left her housebound and unable to move. For years, she went from doctor to doctor, received countless tests, and was repeatedly misdiagnosed.
"I was told I had a hernia, Crohn's Disease, and several other conditions," Lynn said. "Finally, I just accepted the pain as something I would have to live with. I didn't think I would ever feel well."
Around the same time, Lynn also developed pain in her right arm. The area was sensitive to touch and had a somewhat tender, burning feeling. Then, a bump appeared. Initially, she thought it was an insect bite that never healed properly. Again, she felt frustrated.
In January 2015 at the age of 52, Lynn discovered something that no woman wants to find: a lump in her breast.
"Strangely, it was the same type of bump and tenderness I felt on my arm," she said. Lynn called her primary care doctor who ordered a mammogram and ultrasound. "They found a mass under my arm, on my breast, and detected tumors in my intestine. Following a battery of tests, including biopsies, I was diagnosed with carcinoid tumors," Lynn said.
Lynn quickly began researching her options. A resident of Medford, New Jersey, she first reached out to her local hospital, which at the time was affiliated with Fox Chase (that partnership disolved later that year).
"I had heard the Fox Chase name and thought that it was the first place I should turn to," Lynn said. "The doctors recommended that I see the specialists at Fox Chase Cancer Center's main campus in Philadelphia. They set up my appointments and I was advised a doctor would be in touch."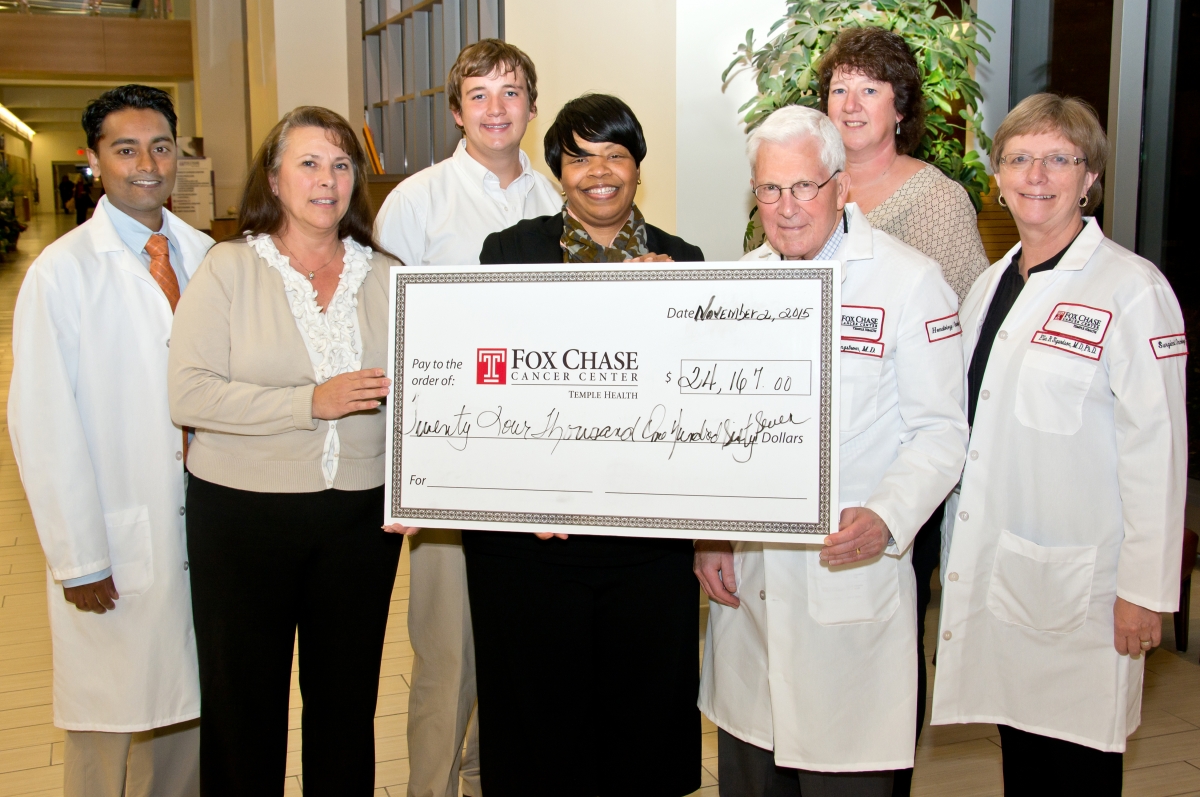 As promised, Lynn was contacted by a nurse navigator at Fox Chase and a short time later, Lynn was seen by Paul F. Engstrom, MD, special assistant to the president. "When I met Dr. Engstrom my first thoughts were, he's a calm man with a quiet compassion. He had a kind demeanor. But next I learned how smart he is. You learn quickly that cancer doctors devote their life to helping people. Cancer doctors, like Dr. Engstrom, are very special people," said Lynn.
During that first appointment, she recalls that Dr. Engstrom explained everything in great detail, showing Lynn what the scans revealed. "He told me I needed surgery and he told me he was going to bring the surgeon in so he could talk with me too," she said.
Dr. Engstrom referred Lynn to his colleague, Sanjay S. Reddy, MD, a surgical oncologist at Fox Chase. "From that moment, I appreciated the collaborative approach of Fox Chase," says Lynn. "Dr. Reddy made me feel comfortable. He told me what he planned to do and I trusted him."
The first phase of Lynn's treatment plan was a three-segment test, which used imaging to help doctors identify the exact size and location of her tumors. "I was very impressed with how thorough Dr. Reddy and Dr. Engstrom were. They showed me the images and I saw four tumors in my intestine and stomach. They told me that all that stomach discomfort I had experienced during those years was likely the cancer. Since I hadn't been properly diagnosed, this type of cancer, which is aggressive, had spread," she said.
In March 2015, Dr. Reddy performed surgery on Lynn to remove about 12 inches of her intestine, the tumor on her arm, and repair a hernia. Elin R. Sigurdson, MD, FACS, a surgical oncologist with expertise in breast surgery, joined the team to perform Lynn's lumpectomy. "Every doctor played an important role in my quality care," Lynn said.
Following the surgery, Lynn stayed in the hospital to recover for eight days. "The nursing care was very good, as they were attentive and managed my pain," Lynn said.
In 2016, Lynn continues to have infusion chemotherapy and is being monitored. Like many of her fellow patients, she was moved to help others and to show her gratitude for the care she receives at Fox Chase. While still undergoing treatment, Lynn organized an annual charity golf outing at the Medford County Country Club. In just its second year, with the support of Lynn's friends, family, and colleagues, the event raised $12,000 for endocrine tumor research.
"Dr. Reddy continues to give me encouragement and feels my treatment is going well,"  Lynn said. "Although I will never be cancer-free, he believes I will be around for years to come. I will take that!"