"That's why it matters where you start, it matters who you have on your team, and it matters what you take into that journey."

‐Jennifer O'Farrell
I'm 46 years old and the mother of two teenagers. I am a special education teacher and spend my free time outside gardening, being with my family, and just enjoying the simple things in life. That's why it was so difficult for me when those simple pleasures came to a screeching halt with a stage IV colon cancer diagnosis and treatment that concluded during the COVID-19 pandemic.
A Shocking Diagnosis
Two years before I was diagnosed I had noticed blood in my stool and went to see my family doctor. He suggested it could be internal hemorrhoids and recommended I get a colonoscopy. Unfortunately, insurance wouldn't cover a colonoscopy because I was in my early 40s. My doctor told me to wait and see. During that time, the blood would come and go.
In June 2019, I saw a significant increase in blood in my stool and eventually scheduled a colonoscopy. During the procedure, doctors found an 8 centimeter mass in my colon, leading to a diagnosis of colon cancer. I was shocked and immediately began planning my next steps. Before I could make an appointment anywhere, my friends insisted I go to Fox Chase Cancer Center.
A Team of Experts

I met Dr. Sanjay Reddy, a surgical oncologist at Fox Chase, and he put air back in my lungs. I was full of panic and fear, and he put my mind at ease like no one else. He said I was going to get a few more tests because he didn't like surprises. When I got a CT scan and an MRI they showed something in my liver, but it was inconclusive. After a CT scan, an MRI, and having a liver biopsy and a PET scan, I was told my cancer had metastasized. I had a tumor the size of a ping-pong ball on my liver and a smaller one next to it.
I was then introduced to Dr. Michael Hall, a medical oncologist and genetic risk specialist at Fox Chase. He was so patient and readily answered my many questions. He set me up for six cycles of chemotherapy from September through Thanksgiving of 2019. I then went on a break for recovery before my liver and colon resection was done in late January 2020 by Dr. Reddy.
I spent five days in the hospital and had amazing care. I recovered at my home in Warminster, Pennsylvania, for six weeks before starting a new regimen of chemotherapy in March. Those treatments finished in May 2020.
During my second round of chemo, COVID-19 had begun spreading widely across the United States. At first, I was concerned that it would impact my treatment, but I quickly saw that I was in good hands. Other than wearing masks and taking a few more precautions, there weren't any changes in my care. I came to realize that these doctors, nurses, and staff deal with patients who are immunocompromised every day. These precautions are second nature to them and that was very reassuring as I went through my treatments.
A Unique Family Care Experience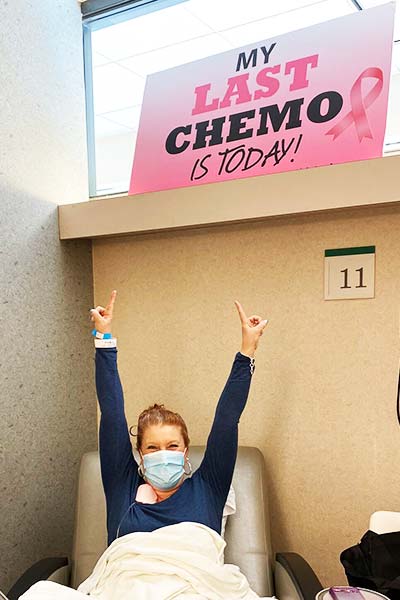 Perhaps the most impressive part of my care was how my children were treated during my visits. As a mom of two teenagers, I worried that I wouldn't see another year of their lives, and they were just as scared as I was. Fox Chase was helpful with that because they encouraged me to be honest with my children, and they were adamant that I share my journey with them. My children were welcome with open arms at my visits and it really helped all of us view the process differently.
Unfortunately, because of COVID-19 precautions, my kids couldn't be with me when I rang the bell to celebrate my last treatment in May. However, I was able to finish treatment with all the same nurses and staff who were there from the very beginning. They became like family to me. They took videos and photos and celebrated my success with me, so I never felt alone.
Adjusting to a New Normal

I think I made the best possible choice for me and my family by going to Fox Chase. As much as fear can take you down some dark roads, I feel like finding the people who are experts in their fields, who dedicate their lives to helping people through cancer, those people are priceless.
Now that I'm through with treatment, I'm looking forward to enjoying my life again and not having to deal with the side effects. I'm excited to enjoy sunrises and sunsets, long walks, and generally getting back to who I used to be.
Cancer changes you, so I know I will never be the same person I was before cancer and that's OK. That's why it matters where you start, it matters who you have on your team, and it matters what you take into that journey. I've learned so many amazing things about myself and realized my strength.
I'm ready to make some new memories and be OK with my new normal. I have never looked back and I'm thrilled that I have people in my life who said, "Go to Fox Chase."
Learn more about colon cancer treatment at Fox Chase Cancer Center.