"The care I received at both Temple and Fox Chase was great."

‐James Tetzlaff
When he thinks back on October 28, 2013, Jim Tetzlaff realizes it would have been easy to ignore what happened and not give it another thought. "I'm a man – we have a tendency to ignore things that have to do with our health," says Jim, who was 75 at the time. On that day, after one of his grandson's football games, Jim went to the bathroom and saw blood in his urine. "It was upsetting, but I didn't have any other symptoms so I thought it had to be a fluke," recalls the former medical equipment salesman.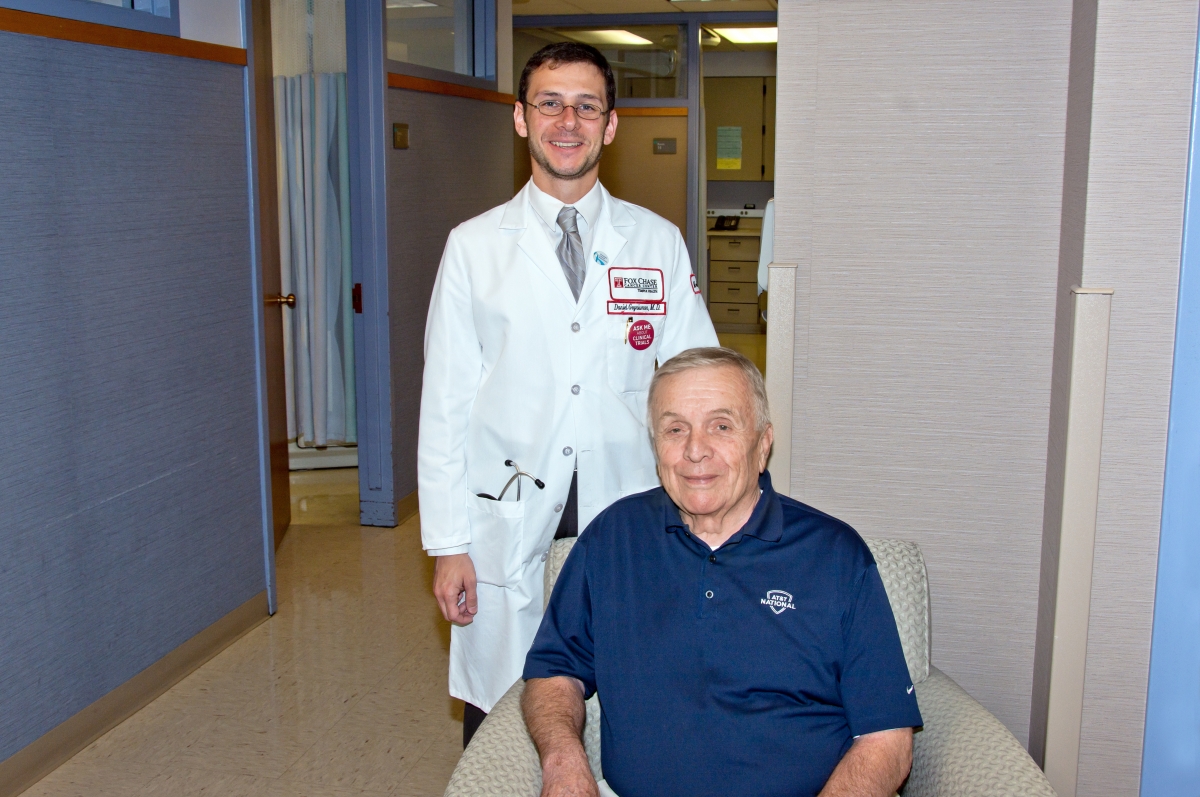 Except it wasn't. And fortunately, Jim didn't ignore it. Although he didn't tell his family, Jim emailed his primary care doctor, who wanted to see him the following Monday. A CT scan revealed a mass on his right kidney. "She suggested I see Dr. Uzzo at Fox Chase. I still couldn't really believe that anything was going on."
Less than a week later, during a visit to Fox Chase Cancer Center, Jim and his daughter, Susan, met with the two surgical oncologists who would lead his treatment team, Robert G. Uzzo, MD, FACS, and Marc C. Smaldone, MD, MSHP. Both specialize in the surgical management of tumors of the kidney and other types of urologic surgery.
"Dr. Uzzo explained to us that while my diagnosis was very serious, it was treatable," shares Jim, who had stage 3 cancer around his right kidney that had invaded his vena cava (the vein that takes blood to the heart). "Dr. Uzzo was very detailed, and even showed us sketches of how the surgery would go." After several more tests, Jim was cleared for surgery in November.
Dr. Smaldone performed the eight-hour surgery at Temple University Hospital. "It was a very serious and complex procedure," he says. Because Jim's cancer was invasive, the surgeons removed his right kidney in what is called a right radical nephrectomy with IVC thrombectomy. "My doctors did an incredible job treating me, and the nurses were just as wonderful. The care I received at both Temple and Fox Chase was great."
Jim spent one week in the hospital before going to his daughter's to recuperate. One of the things, both before and after his surgery, that contributed greatly to his recuperation was his commitment to exercise and working with a personal trainer twice a week. "I think that strengthened my heart and helped me heal faster," admits Jim.
Jim notes that one of the benefits of being treated at Fox Chase is the team approach to his care. He has three surgeons, a medical oncologist, research nurse and clinical nurse, who work together to develop a tailored treatment plan for Jim.
For Jim, the next step was opting to participate in a clinical trial, called EVEREST (EVErolimus for Renal Cancer Ensuing Surgical Therapy, A Phase III Study), for patients who have had renal surgery. "Renal cancer has a tendency to recur," he shares. "I figured I have nothing to lose." Daniel M. Geynisman, MD, a Fox Chase medical oncologist who specializes in treating patients with kidney cancer, oversees Jim's care in the trial. Jim gets tested every six to eight weeks, and in the fall of 2014, a CT scan revealed a small mass in the nephrectomy bed. "Although it was a bit alarming to learn the cancer could be back, I don't focus on the negative. I feel fine. We'll see what shows up on the next scan and take it from there. In the meantime, I know I'm in the right place and being taken care of by the right doctors."