"I recommend Fox Chase to everyone I meet, and I offer to drive them from South Jersey for treatment."

‐James Slade
I was in my early 60s when my first PSA blood test detected slightly elevated levels, and I was advised to be retested 8 months later. When the levels increased 50% on the second test, my doctor in New Jersey performed a biopsy. The diagnosis was prostate cancer.
The recommended treatment was brachytherapy, which is implantation of radioactive seeds to deliver continuous radiation doses to the prostate. 
The recommendation sounded good to me, but my doctor agreed with my decision to get a second opinion at Fox Chase Cancer Center before proceeding. It turned out to be one of the best decisions I have ever made.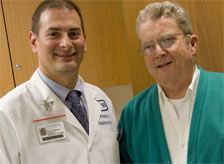 At Fox Chase I met with Dr. Eric Horwitz, a radiation oncologist who specializes in prostate cancer therapy. Dr. Horwitz agreed that brachytherapy can be a good option for some patients, but he advised th
at my cancer was too large for a seed implant. Instead, he recommended high-dose conformal external beam radiation therapy, which was a new technology that uses daily image guidance. The approach allows for more precise and accurate targeting of the prostate and cancer. 
Not long after I had the treatment in 2000, I resumed my normal life as a chemical plant manager by day and as a guitarist in a country/blue grass/gospel band by night. In fact, I never missed a gig during my treatment. I was determined not to let the cancer bring me down.
Four years later, I noticed blood in my stool and returned to Fox Chase, where I met with Dr. David Weinberg, who performed a colonoscopy. The diagnosis was colon cancer. I met with a surgical oncologist at Fox Chase and soon had surgery to remove 6 inches of my colon as well as several lymph nodes, followed by 12 chemotherapy treatments. It was tough but I took it alright. Everyone in the infusion room was great.
I know it sounds crazy, but I actually like going to Fox Chase, and I return there for check-ups. Even after the surgery I never had any pain. The nurses understand how important it is to manage pain. I also really liked the multispecialty team approach at Fox Chase and appreciated that several doctors and nurses practitioners were on my case.
I recommend Fox Chase to everyone I meet, and I offer to drive them from South Jersey for treatment. Distance should not stand in their way. I am also grateful for the many prayers from people of all regions, and I thank God for the power of healing.
I retired recently and can now spend a lot of time with my wife, Sally, our children, grandchildren, and great-grandchildren. Family is very important to me.