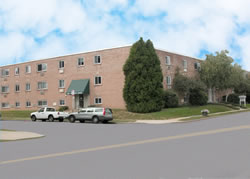 8048 Oxford Avenue
Philadelphia, PA 19111
Being miles away from home can add to the anxiety of a cancer diagnosis and ongoing treatments. That's why Fox Chase Cancer Center's Coventry House brings the comforts of home to out-of-town patients and families.
Reservations
To learn more about Coventry House, call Fox Chase's Housing and Transportation Coordinator at 215-728-3628.
Comfortable, Affordable Housing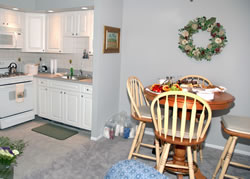 Located within walking distance of the Center, Coventry House offers five fully furnished, one-bedroom apartments for Fox Chase patients and families. For rates less than the average hotel stay, each smoke-free unit features twin beds in the bedroom and a sofa bed in the living room, a full kitchen including microwave, air conditioning, a television, and Wi-Fi. The complex also includes coin-operated laundry facilities and free parking.
Coventry House offers an affordable and comfortable housing option for those planning an extended stay. Apartments are available on a first-come, first-served basis for a minimum of two nights. Patients staying at Coventry House must be ambulatory and able to care for themselves without assistance. Pets are not allowed.
Availability of Apartments
In order to be eligible, patient must be in active treatment and permanently reside more than 40 miles from Fox Chase Cancer Center.  There is often a waiting list for apartments. The Housing Coordinator will confirm the availability of a unit two business days before you arrive or help you make other arrangements until an apartment becomes available. You also will receive a list of local stores, pharmacies, and restaurants conveniently reached by walking, driving or local bus service.
Donors Help Keep Costs Low
To make a donation to Coventry House, please call Fox Chase's office of institutional advancement at 215-728-2214.