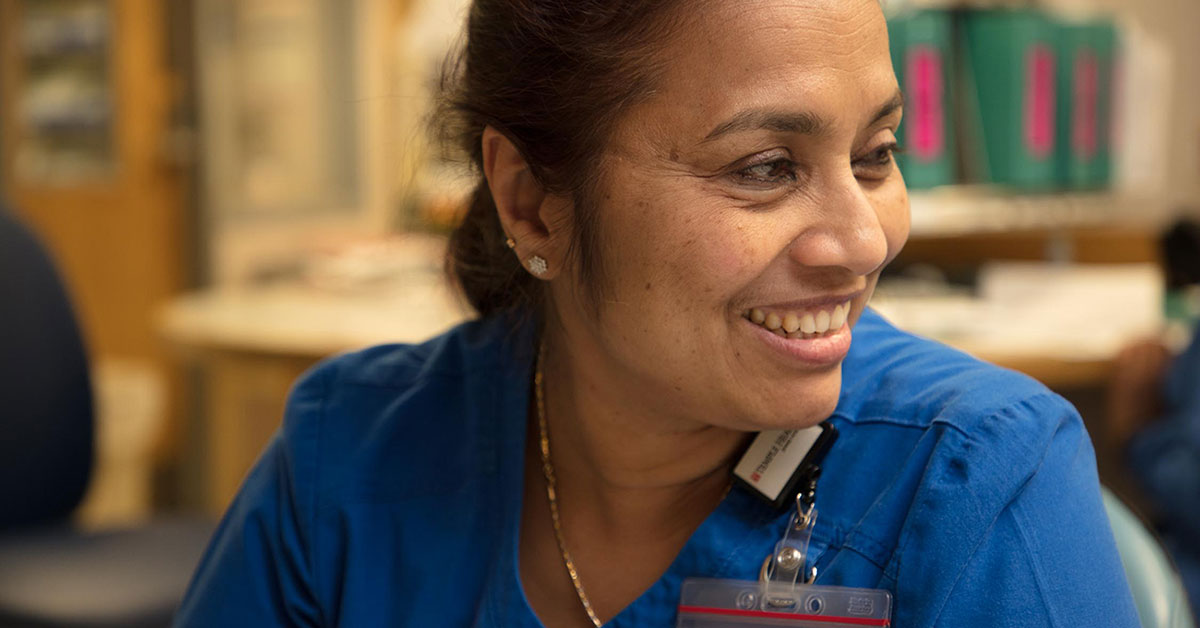 VIEW ALL POSTS
For Oncology Nurses, It's More Than Just a Job
It takes a special person to be a nurse. And it's an even more elite group that is drawn to cancer care. At Fox Chase Cancer Center, our amazing nurses treat patients with cancer and related diseases, exclusively.

"The most important thing I realized when I came to Fox Chase is that every nurse who works here chose this kind of nursing," said Jill Ranochak, MSN, RN, CHPN, assistant nurse manager for inpatient oncology. "Everyone here is passionate about providing care to patients and families on a cancer journey."

The path to cancer care

Nurses follow all kinds of career paths. Some, like Ranochak, feel a calling for a particular specialty, like oncology, right away.

Jill Ranochak and beloved patient Joe, who inspires her every day.

"I've been in nursing for seven years, and I've been at Fox Chase for seven years," she said. "I always wanted to be an oncology nurse."

The career path was a little more circuitous for Tara DelGrippo, RN, MSN, NE-BC, OCN, clinical director ambulatory infusion services at Fox Chase. She began nursing in 1998, working in a neonatal unit and then in an outpatient oncology infusion room. But then a friend recommended she look at Fox Chase.

"My mom worked at Fox Chase for 25 years in the new patient department," DelGrippo said. "I grew up around here and knew what it was like to work here. I loved my job where I was, but I looked at coming to Fox Chase as an opportunity."

Even though DelGrippo didn't start out planning to be a cancer nurse, the profession was somewhat of a destiny.

"Six years ago, I found an old journal, one of those 'what do you want to be when you grow up' things from fourth or fifth grade," she said. "I had written that I wanted to be a pediatric oncology nurse. I didn't even know I said that!"

Childhood aspirations aside, cancer care initially made DelGrippo apprehensive.

"I wasn't sure about oncology," she said. "I didn't know if it would be too much, but I've found it to be personally rewarding for sure. I'm able to be 'that person' for someone at a point in their lives when they really need help, and, at the same time, I have the ability to move forward and keep things in perspective. That's something I'm good at. I was meant to be an oncology nurse."

Long-term relationships

Nurses at Fox Chase create lasting bonds with patients and their families.

"People come to Fox Chase because they're not just a number," Ranochak said. "We get to know them and their families. We know their stories. It's more personal."

It's this intimate understanding that helps nurses identify how care can be enhanced.

"I've never been at an institution that was so pro-nursing," DelGrippo said. "Nurses here want to be here. They want to be involved, be on committees, and help create the best patient care possible. They are always looking for ways to improve things. I have so many nurses who come here after family members were patients because the care was so amazing."

Fox Chase is a unique place. And our nurses help make it special.

"It's a calling to work in oncology—it's not for everyone," Ranochak said. "You're making a difference for people. I don't think I could do anything else. This is where I am supposed to be."

Come join us!

Are you interested in a career at Fox Chase? Search jobs at Fox Chase Cancer Center.